There was a time when "customer experience" was defined by a combination of buyer persona attributes, market segment data and customer purchasing histories. However, in this new era of customer-centric digital business models, it takes more. The bar has been raised and to remain competitive, businesses need a complete view of the customer experience...
one that covers every angle of interaction to provide a 360-degree view of your customer's digital journey.
Organizations need to know more about their customers than ever before. They need to track the customer's digital footprint throughout their shopping experience. They need to understand the dynamics of buyer sentiment. They need precise targeting for multi-channel marketing campaigns. And they need the ability to predict product preferences and recommend "next best actions" to guide future purchases
A new level of customer insight is empowering digital marketing engines to drive better business outcomes on several fronts:
Sustained growth in customer acquisition
Increases in revenue per customer
Decreases in customer acquisition cost
Reductions in customer churn
Enhancements to product offerings
These outcomes present a compelling case for investing in initiatives that improve the digital customer experience. In order to achieve them, however, CMOs must place a high priority on ways to measure and optimize customer experience through integrated digital marketing. Consider these findings from Gartner :
In a survey of marketing leaders, two thirds say they are currently competing partly or mainly on the basis of customer experience, and 81% of companies plan to do so within two years
In Gartner's 2018-2019 CMO Spend Survey, CMOs estimated that 18% of their overall marketing budgets were allocated to customer experience
In a report on customer experience trends, nearly half the surveyed organizations say they can track the financial benefits of customer experience projects
A similar percent believe that they can calculate a positive relationship between customer experience or satisfaction and a financial or business impact.
However, going forward, only one third are very confident or somewhat confident that they could project the business value of proposed customer experience improvement initiatives; 42% were neutral and 24% were doubtful.
These results indicate that that organizations are in fact using analytics and can see relationships between customer experience and business outcomes, they are less able to evaluate whether their plans for the future are going to produce a business value.
We are witnessing the rebirth of the CMO as a digitally savvy and customer-centric role that leads the transformation of marketing from an ancient art to an exact science. A key ingredient for driving this transformation is the evolving area of customer experience analytics.
What are Customer Experience Analytics?
Digital customer experience analytics are all of the metrics that track and measure relevant data about the customer journey during every stage of the customer lifecycle. Customer experience analytics guide the digital marketing agenda and are used to prioritize the use of marketing investments.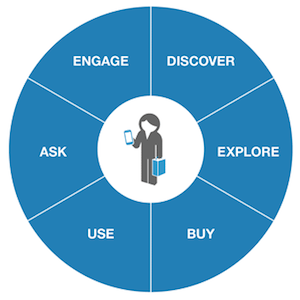 Forrester has published a useful model for understanding the stages of the customer lifecycle. The first three stages – Discover, Explore and Buy – describe that portion of the customer's journey that corresponds to the sales funnel. This front-end of the customer journey is the primary focus of sales and marketing as they look to drive top line revenue.
The next three stages – Use, Ask and Engage – describe the post-sales portion of the customer's journey including the way they use products, ask for support and engage with the company's brand.
What are the Data Sources?
To better understand your own potential use of customer experience analytics, start by asking, "What kind of analytics do I want and where do I find the data"? In an article in Forbes (Unstructured Data: The Other Side of Analytics) Dr. Stephen Andriole wrote about the need to combine structured and unstructured data sources, particularly for predictive analytics.
Structured data tends to be more operational in nature and provides analytics associated with customer attributes, transactions, product sales, and service histories.
Structured data answers the "what" questions:
What kind of customers transacted?
What purchases did they make?
What products are selling?
What service problems are they having?
Unstructured data tends to be more qualitative and provides analytics associated with buyer behavior and sentiment. It leverages social media feeds, customer feedback, clickstream data, website data, and call center logs relating to customer support.
Unstructured data answers the "why" questions:
Why did buyers make a purchase?
Why did they choose one product over another?
Why do buyers prefer to interact via one channel versus another?
Why did customers defect to the competition?
As Dr. Andriole points out in his article, it's the combination of structured and unstructured data that provides a complete view of the digital customer experience.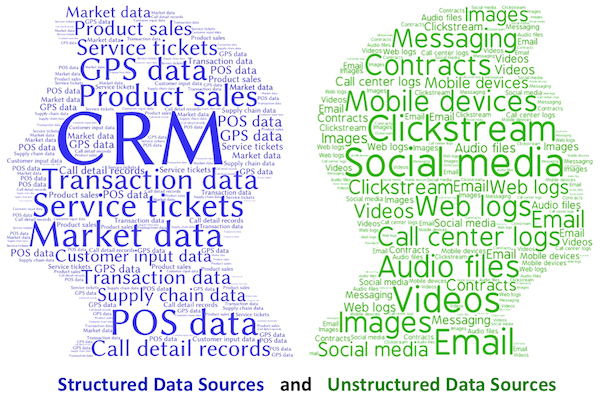 But the noisy nature of unstructured data requires the ability to find the signals hidden within it, and then the ability to combine the two in a way that produces meaningful output.
This is where marketing, sales, service and IT stakeholders must come together to build a common understanding of the business challenges and the IT mission to meet those challenges. Forging an alliance and alignment of business and technology stakeholders is critical to realizing your company's goals for an enhanced and differentiated customer experience. In an environment of cost pressures, it will be important to build a strong business case for future investments.
How to Take Action
Getting the most value from customer experience analytics requires a well-defined vision of the insights you want and the technology sophistication you will need to produce them. Combine this future vision with a thorough self-assessment of your company's current state. This will help to identify gaps that must be bridged to realize the vision.
Once you identify key metrics and data sources, you will need to determine the infrastructure requirements to ingest, store, process and serve up the data. Unstructured data will likely require big data technology, operations and management. The integration of structured and unstructured data will require information architecture and management (taxonomy, metadata, data quality and governance) and the software to carry out the analytics.
In addition to these technical challenges, there may also be organizational challenges to overcome. Do you have the right people, skillsets and processes to achieve an alignment of purpose and an alliance for taking action? If not, look for experts in the field to help you jumpstart the learning curve and to manage this organizational change.
Finally, formalize a roadmap that captures your current state, future vision and path to success along the dimensions of people, process, technology and content. This will serve as a vehicle for building consensus and involvement and for taking action in a purposeful way.