Selling online is dependent upon information. Without information for the customer to process it is essentially impossible to sell online. It is true that selling online is not all about information. Brand and product selection, pricing (which is both information and a retailer choice), availability and quality of fulfillment, to name a few parameters, all count for the customer. But in online retailing information is the customer experience. It is crucial to understand that not all information for your products and customers is equal in terms of you touching and then leading your customers to the point of sale.
Standards and Uniqueness
In terms of using information effectively, we can see selling online as a play between two competing yet also complementary momentums. Between leveraging industry information standards – to gain efficiencies in time, resources and costs – and creating and then leveraging information uniqueness. There are many information standards for retailers to work with – for example those from The Association for Retail Technology Standards (ARTS). Standards are where you will share information values and models with your peers and competitors and use the same information in the same ways. There is nothing lost competitively, and much to be gained (and saved) with you and your competitors using exactly the same lists of geographic locations, components and variants of personal names, classifications of the same types of prices (list, regular, suggested) and so on.
So, standards are good but you don't differentiate yourself from your competitors based on what you are doing the same. For that you must have something unique. Your information uniqueness is where you will show yourself to be different and "better" (and so more appealing to your chosen demographics) from those you compete with. This information—that you use as a retailer to compete with and which defines your customer's shopping experience—is different and must be handled accordingly.
Some of the information customers will interact with needs to be organized hierarchically. There are ways to do this heuristically (and practically) … and ways to implement this badly (and indeed, very badly). We can talk about that another time. Some information needs normalizing into preferred terms and their synonyms. Other information – for example product attribute values that state a product's sustainability, energy efficiency, recyclability etc. – can be important and critical to certain demographics, and needs to be worded and then surfaced to those very customers. Simply stated, your information that is to be your information uniqueness likely will benefit from the touch of those who are experts on information – taxonomy consultants, terminologists and so on.
The Retailer's Tasks and the Information Scientist's Tasks
As an information scientist and metadata/taxonomy consultant I view retailing through the lens of where I can make an intervention that makes a business difference to you. So, any business choices around brand and product selection, pricing etc. I gladly leave to those who are paid to be experts. But when it comes to information about brands, products and product attributes – information quality, its organization, its faceted nature and its use as metadata etc. – then I know I am in my territory playing my game. And the game of people with my skillsets is to craft your information uniqueness to close the sale and create excitement in your customer about the next chance to shop (with you).
The Matrix of Your Information Uniqueness
While successful retailing is not rocket science … well … it may very well be as complex. So, let's prepare for launch. Let's build a matrix! Let's build a simple 2X2 matrix … that can be used as a lens into online retailing opportunity. For example, here is one.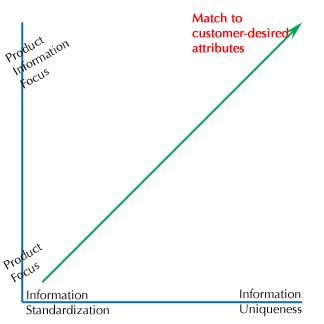 This matrix takes the two dimensions or polarities that we've mentioned – information standards and information uniqueness as one and the focus on product selection and the selection and optimization of information about those products as the other. The more that you focus on growing and polishing your information uniqueness and on using information skillsets to polish your information then the more you will be able to meet the demands (unstated or not) of your customers for the richness of product attributes that will enable them to buy what they feel and think is best for them. There are all kinds of matrices like this one and we will be discussing others in subsequent posts on information-based opportunities and retailing.
Methods to Create Information-Based Opportunity
The methods used to optimize your information-based opportunities are all tried and trusted methods used by taxonomy/metadata consultants, information scientists, terminologists. For example - benchmark your online taxonomies heuristically; compare your online taxonomy against what your customers are searching for (in your search logs); optimize your product data quality, your product names and the attributes you choose to sell the product on. On this last point, some attributes are truly must-have – if the product in question is apparel then size, fit etc. are essential. For other kinds of products what makes the difference to your customer really depends on their personal commitment to facets such as sustainability, health and locally sourced.
So … What have We Learned Today?
To summarize, know what your information uniqueness is or should be (and if you don't know, then discover it). Come to natively know the difference between knowing what you want to sell and what information to use to sell it – i.e. the science of what to sell and the information science of how to sell it. Draw matrices for yourself. And become focused on where you want to be on your matrices. Just as money, outside of notes and coins, doesn't really exist except as information so the online sales interaction and experience is all about, and only about, information. Thus … the only opportunity is the information-based opportunity.
For a deeper dive into how we use customer data models, product data models, content models, and knowledge architecture to create a framework for unified commerce download our whitepaper: Attribute-Driven Framework for Unified Commerce