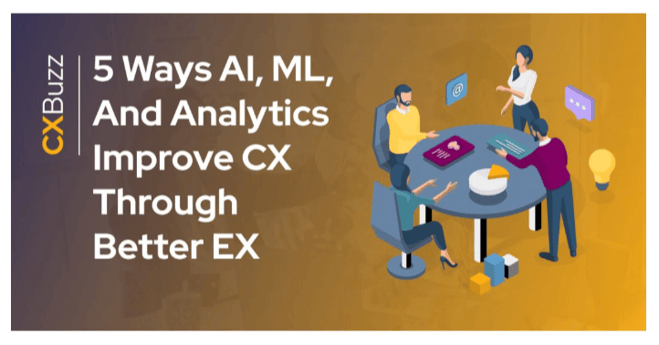 This article by Seth Earley originally appeared on CXBuzz.

Quick Summary

Research has shown that better engaged employees provide a better experience for your customers. Here are some ways to identify issues and address employee experience challenges.
Five Ways that Artificial Intelligence (AI) and Analytics Customer Experience(CX) and Employee Experience (EX)
Studies have shown that there is a high correlation between employee experience and customer experience. An environment in which employees are engaged translates directly into positive customer experiences as well as into higher corporate profits. Your team's experience affects how happy your customers are. The efficiency and effectiveness of their work processes can directly impact the customer experience. If employees can't find the information, they need to answer a customer question or fill a special order, indicators of customer satisfaction, such as likelihood to recommend will be impacted. But how do you know how well the employees are doing? Much of the focus on metrics is related to customers, and employee experience is often overlooked. However, many of the same metrics can be applied to your employees to measure team structure, efficiency, attitudes, and overall effectiveness.
Metrics about the employee experience can identify bottlenecks in information flows and uncover warning signals about the supporting processes that in turn enable a better external customer experience. For example, millions of dollars are invested in search engine optimization – the content and site tuning to improve ranking in search results from Google or other search engines. But how much attention is paid to internal search? Measuring search precision and recall for a customer support rep is a good indicator of that rep's ability to locate information needed to serve the customer. In this article we discuss some ways that metrics and machine learning can help your team's performance and ultimately impact your customers' experience. These include identifying knowledge networks through ONA, understanding the tone of communications through sentiment analysis, using content analytics to understand high value, low value, and missing content, and search analytics to measure the effectiveness of search, semantic search, or emerging graph search applications.
The five ways are:
Organizational network analysis – identifies connectors, informal networks, knowledge networks, influencers, hidden structures and is critical to understanding knowledge communities and networks. Machine learning can infer many indicators and even prescribe remediation actions and measures of the impact of actions taken. If one person is the "go to" for a specific area of expertise, that person may become a bottleneck. ONA can reveal many hidden factors in how knowledge flows and is applied throughout the enterprise, and in how employees do their jobs.
Sentiment analysis – identifies the tone of communications among individuals and among different communities within an organization. This signal is useful for determining the issues that may be getting in the way of fully engaging employees.
Content analytics – is used to determine what content people are using to do their jobs; it can help the organization focus on those assets with the greatest usage and value. For example, it can be used to fine tune question answering systems and content used for customer support, as well as for analyzing which knowledge assets are most valuable in other departments such as product development, engineering, strategic planning or other processes that are farther upstream.
Semantic search and knowledge graph performance can be measured in multiple ways – from search precision and recall to many behavioral and process measures. These tools can also enable recommendation engines that surface high-value content based on team tasks, goals, and project profiles.
Team roster and make up can be optimized based on aggregates of elements most critical to the project given other talent and interaction profiles. There are numerous assessment vehicles that can be applied in advance of mobilizing a team as well as throughout the project collaboration.
Many approaches for talent measurement identify characteristics of high performers, and align personal communications styles and preferences with the gaps and makeup of the team. This process helps find strengths, round out teams, and propose personal styles that will catalyze creative communications. Similarly, for certain dynamics, people with a particular combination of personality, learning, thinking, and communication styles will not be appropriate, given project characteristics and objectives.
These techniques area based on having good data about past projects and individual performance. They can provide insights that show team strengths and weaknesses and lead to changes that drive continuous improvement.
Good leaders use the equivalent of what are termed "hidden variables" in machine learning algorithms. The gut feelings and instinct that come from years of experience and are not easily describable. With enough data, those latent attributes can be derived and used to prescribe actions and have predictable outcomes.
Most of the knowledge that informs customer experience comes from employees. It may show up on the company website or be captured in documents or knowledge bases. If the information flow in your company is working well and team interactions are effective, then the information your customers need will be available without "acts of heroics." This in turn leads to greater engagement and a virtuous cycle of improvement and efficiency.
An organization's effectiveness can be directly correlated with agility and adaptability.
"Organizations that can identify, develop, and implement ways to be better, faster, or cheaper than their competitors are able to achieve above-average profitability".
Many elements contribute to agility and adaptability. These include leadership style, fostering a learning culture where mistakes or failures are considered learning opportunities, and supporting employee motivation and engagement. But the critical role of streamlined knowledge and information flows cannot be over-emphasized. Streamlined information flows help the organization differentiate and compete for customers by responding more quickly and efficiently to marketplace changes, customer needs, and competitive threats.
When unnecessary friction slows down response times by forcing re-creation or re-validation of information because of challenges in locating complete, up to date, and accurate data, knowledge and content, the information metabolism, and therefore adaptability and agility, slows down. Leadership does not always recognize the issue because it can subtly build over years and becomes part of "business as usual." They may benchmark, themselves against competition and consider themselves the "best of the worst." Meanwhile stealth, born digital or internal startups within larger organizations using clean-sheet approaches are building capabilities that leadership is unaware of.
One large enterprise client has streamlined information flows using a knowledge and component architecture that serves multiple audiences and purposes. Those discrete pieces of information speed information flows for teams, departments, and ultimately customers. They also power cognitive AI systems such as intelligent virtual assistants and "helper bots" that improve individual team performance and improve information access and reuse. Text analytics machine learning algorithms can identify higher value content and surface it based on role and project, and also identify content that is not performing. Getting the right information to employees, regardless of role, is a critical element of the employee experience by making it easier and less frustrating for them to do their jobs, and machine learning (plus the right information architecture) can help.