Taxonomy is a critical component of data-driven applications and processes, but implementing and sustaining a program can pose a challenge. Taxonomy champions must present a well-designed business case and justify their recommendations about how to prioritize the various stages of the rollout. Organizations are unlikely to make the required investment and long-term commitment without being confident that taxonomy will bring value to business activities and improve business outcomes. The panel for this webinar provided several perspectives on how to understand and communicate the value of taxonomy, and how to overcome the inevitable setbacks to ensure that the taxonomy meets corporate goals.
Panel participants:
Seth Earley, CEO of Earley Information Systems (EIS)
Dave Skrobela, Managing Director Client Partner, EIS
Rebecca O'Brien, Senior Director Digital Merchandising, Global Industrial
Dave Bonk, Marketing Technologies Manager, Content, 3M
Giovanni Piazza, Head of KM Services, Takeda
White Paper: The Business Value of Taxonomy
Dave Skrobela highlighted some of the value drivers of taxonomy, among which are better search and navigation, and the ability to re-use content. Taxonomy can also accelerate time to market for new products and improve the management of product data. With the addition of customer attributes, elements of customer service such as personalization and choosing the next best action are enhanced. Finally, with the improved information architecture that goes along with taxonomy development, self-service and automation become much easier and the knowledge that supports cognitive applications is more readily available.
Common Taxonomy Applications


Ecommerce product hierarchies and navigation

Backend ERP financial reporting organizing principles

Reference values for data integration projects

Metadata for content and knowledge (is-ness and about-ness)

Models for understanding customer characteristics and needs

Thesaurus structures for search

Facets and filtering for knowledge, content, products

Standards for data quality and completeness for AI and machine learning applications
Seth Earley pointed out that enterprise content from many different places needs to be dynamically assembled to present a full description of a product or to complete a business process. Data repositories typically include web content management systems, digital asset management systems, knowledge bases, and product information management systems. Various hierarchies need to be developed going from navigational constructs and user experience down to asset types, content types, brands and attributes. In order to be integrated, the data must share common and consistent terminology. For example, units of temperature should not be Fahrenheit in one system and centigrade in another.
The illustration below shows "is-ness," which is the category of content, such as an article, a contract, or an image; and "about-ness," which describes various features of the content, such as title and author.
Taxonomy touches every part of the orchestration lifecycle.
A robust taxonomy supports every stage of the product lifecycle, helps manage enterprise content, and facilitates the customer journey.
Teams of people work on product development, including engineers who understand product specifications. Product onboarding processes need to access data related to the product, which may be stored in multiple repositories.
Meanwhile, the marketing organization is planning how to promote this product or thinking about merchandising.
When demand generation starts up, all of this information needs to come together. The right attributes to surface for the product depend on whether the audience is technical or consumer, for example, or procurement. These factors weigh into content strategy.
Ecommerce strategy needs to be driven by product data, but provision must also be made for customer self-service. Call center operators need to understand the product details. Internal audiences need to be able to find, share and re-use content.
Personalization relies on integrating many of these pieces and obtaining and categorizing consumer feedback.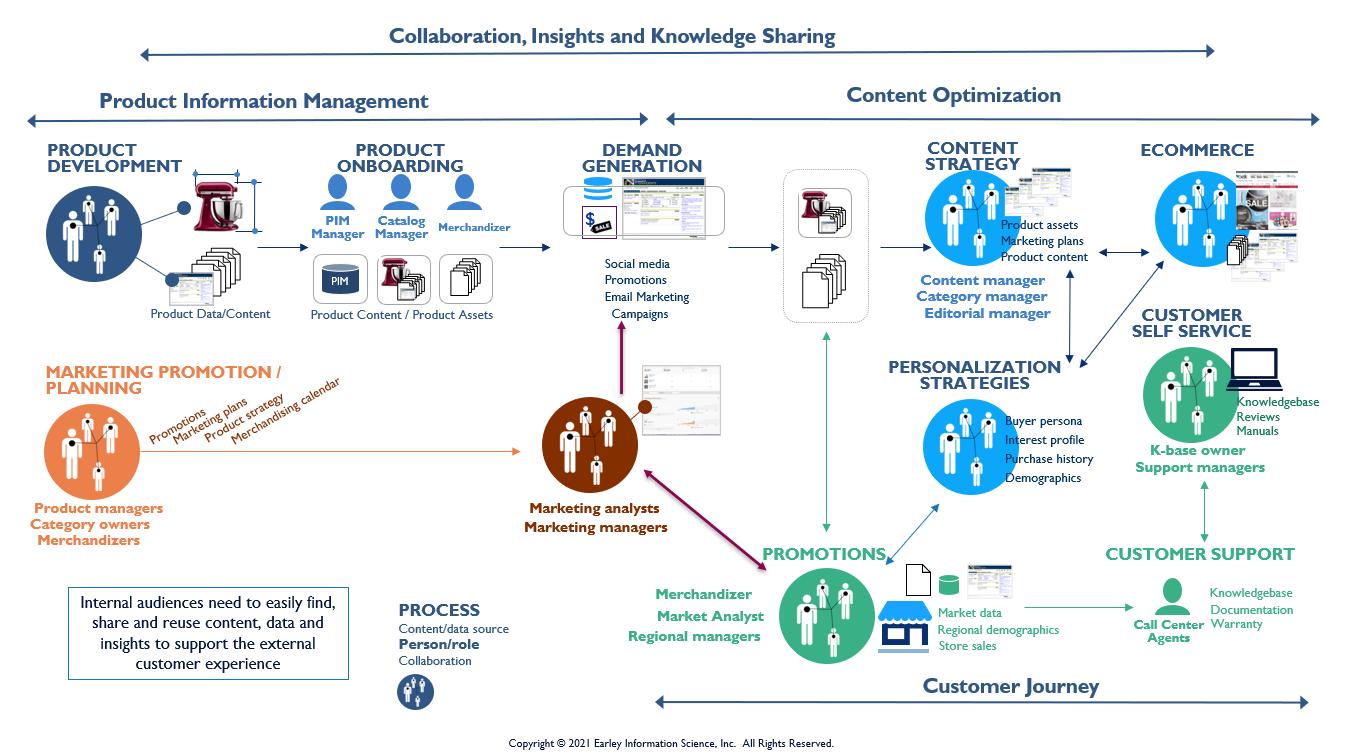 The "aha" moment: When taxonomy is recognized as essential
For Dave Bonk, the wake-up moment was looking at the results of an in-house survey that affirmed the need for a big initiative on taxonomy. The demand was there from within the organization for a way to organize and surface its enterprise information across departments. The impetus also stemmed from his desire to find better ways within the business to organize content, without having to do the same rather mundane tasks multiple times.
He recognized that the company first should build a foundational infrastructure for the initial uses of the taxonomy. After that, other doors started opening related to how they could leverage the taxonomy the company had created. There were several initiatives the company had been thinking about doing for a long time, and now was starting to be able to not only conceive them but with an actionable road map, accomplish them too. One goal was to have a world class website, but to do that, they knew they needed to work on product findability within different contexts. In addition, there was a desire to be more efficient internally.
Dave noted that no taxonomy is likely to be "we're in and done"; rather, it will evolve over time as organizational needs change. However, he believes that it helps to outline the entire process, , in order to show what is going to be needed for full implementation. The process of developing an enterprise-wide taxonomy is likely to be a multi-year process, so organizations should be prepared to fund it, support it, and make it a central piece of the digital effort
From Rebecca O'Brien's perspective, taxonomy is the foundation to any functions in an ecommerce business. Taxonomy not the flashy piece that's the first thing the customer sees, but every aspect of that customer experience is impacted by the underlying taxonomy.
Rebecca O'Brien on taxonomy as the foundation to digital experience.
Rebecca's analogy for building a taxonomy comes from the construction industry—building a skyscraper. If you try to build it without the right foundation, things will not go well. The same is true for taxonomy. When designing a taxonomy, keep both present and future in mind. Companies building taxonomies are investing time and money into that foundation for what they want to build today. But it's also setting the company up for what they want to build in the future, for things they don't even know they will want to build. It should be seen as an investment for the future as well as solving problems in the present.
In addition, she concurred with Dave that there should be recognition that significant maintenance will be required, because many of these initiatives will become long-term projects. It helps to look specifically at the ways taxonomy will support business; for example, how will it help maximize the benefits from a new third party partner, how will it take our search capability to another level, or how will it streamline the workflow for certain groups within the organization. And finally, what are the metrics that let you know you can deliver for company goals. Being able to speak that language is important because you need ongoing support from senior leadership within your organization.
For Giovanni Piazza, enlightenment came many years ago after a lot of trial and error when some taxonomy developers in his company, in an effort to create consistency, came up with a taxonomy that had 14 coordinates and 6 levels. It crashed and burned under its own weight. Instead, a balance should be found. Giovanni describes the Goldilocks Effect, "just enough but not too much." His wanted to improve findability without creating a lot of burdensome overhead.
His perspective is that it is better to state a specific target, such as improving findability by 30%, or reducing the time for an expert to complete a task by a certain amount. Those metrics are relatively easy to calculate, and avoid presenting a level of detail that would make business analysts' eyes glaze over. Sell the big picture and the business objectives, and do not get down in the weeds about how to do it.
Dealing with bumps in the road on the way to success
It is rare for any major project to proceed without encountering some type of obstacle. Giovanni counts himself lucky to be in a company that has recognized the value of classification information sciences, so his obstacles have related to execution of plans rather than opposition to them. There were times when an overly detailed or overly centralized plan took hold, to the detriment of overall progress.
Fortunately, the taxonomy can evolve over time from an overly rigid or complex one into a democratized version in which some key corporate concepts are established that are consistent throughout the enterprise, with communities that have attributes that are proprietary or unique. For example, a retailer might have product lines that require different attributes, or in pharma, drugs might have attributes that were relevant to one but not another.
Bumps in the road can also result from unrealistic expectations, Rebecca said. It's important to say from the beginning that there will be setbacks on a project of this scale, with workforce and financial implications, but that they will be worked through. The fact that there are obstacles does not necessarily mean that project implementers will not achieve their goals. Issues will arise, and as long as there are mechanisms for resolving them, success can follow.
Frequent and open communication is very important, as the initiative is socialized into an organization. Having a communication baseline with senior leadership and partners helps to keep alignment—or to realignment if necessary—with corporate objectives. Proactive communication is most important when there is an issue or challenge, so the team can move forward collectively somewhat more easily. Also if possible, go into the project trying to anticipate all the problems that could come up, so there are fewer surprises.
Looking across not just his own experience but also among peers across the industry, Dave cited executive buy-in, and sponsorship of the project as it starts out as being two of the most critical elements. He concurred with Rebecca that things can go wrong, and added that struggling with governance is a common obstacle. However, once working teams are set up and are addressing the practical issues, focusing on ROI and what the project will gain for the company at the end of the day will determine what kind of ongoing support will be provided.
Dave Bonk on the importance of leadership support.
Different stakeholders may have conflicting needs, but if the structure is there and the teams can grow together, those issues can be addressed, as long as executive support is present.
Ready to talk with an expert about how to leverage taxonomy more effectively in your organization? Contact us!