A great deal of attention is being given to digital transformation. According to Forrester, "Seventy-four percent of business executives say their company has a digital strategy, but only 15% feel they have the skills and capabilities to execute." This is the digitization of end-to-end processes for serving customers across their entire lifecycle – from first learning about your products and services through purchase, use, service and retention.
Though these processes have been enabled by technology in the past, what is different now is the seamless experience that users expect across channels, functions, devices and throughout the customer journey. It is no longer possible for businesses to look at a step of the process in isolation or to look at a siloed function. The seamless digital customer experience requires an unprecedented level of communication, coordination and information flow throughout the enterprise. These processes, supported by appropriate technology, must all work together to support the digital transformation strategy.
Digital projects are data projects - not software projects
A key challenge is that many organizations embarking on these digital transformation programs have begun to realize that frequently, a critical element is missing across enterprise scale information initiatives. The missing element is a common structure for enterprise information. Multiple specialists, consultancies, agencies, integrators and software solution providers generally need to be brought in to address the information management challenges presented by end-to-end, omnichannel digital transformation.
In each area of focus addressed by these providers, information needs to be put into a context that allows users (whether internal stakeholders or external customers and partners) to get the information they need to solve their problem and complete their task. Shoppers want to find the product they seek, business customers need to find a specific solution, internal users have multiple tasks and their contexts change continuously depending on the problem they are solving. Mobile devices need to pull data from multiple systems and applications to provide an experience that is customized and personalized.
However, while multiple systems, processes, applications, stakeholders, departments, divisions, data stores, and software tools are needed to create that experience, in many cases, no one is tasked with creating an overarching taxonomy of concepts and terminology that can be used as a foundation for each of the initiatives.
Read - Information Architecture: The Foundation for Digital Transformation
Context is the key requirement for digital transformation, but if no common structure and organizing principles have been developed, or each group and project has slight variations on terminology, it will be difficult if not impossible to create an optimized experience, because the same data may be used for different purposes.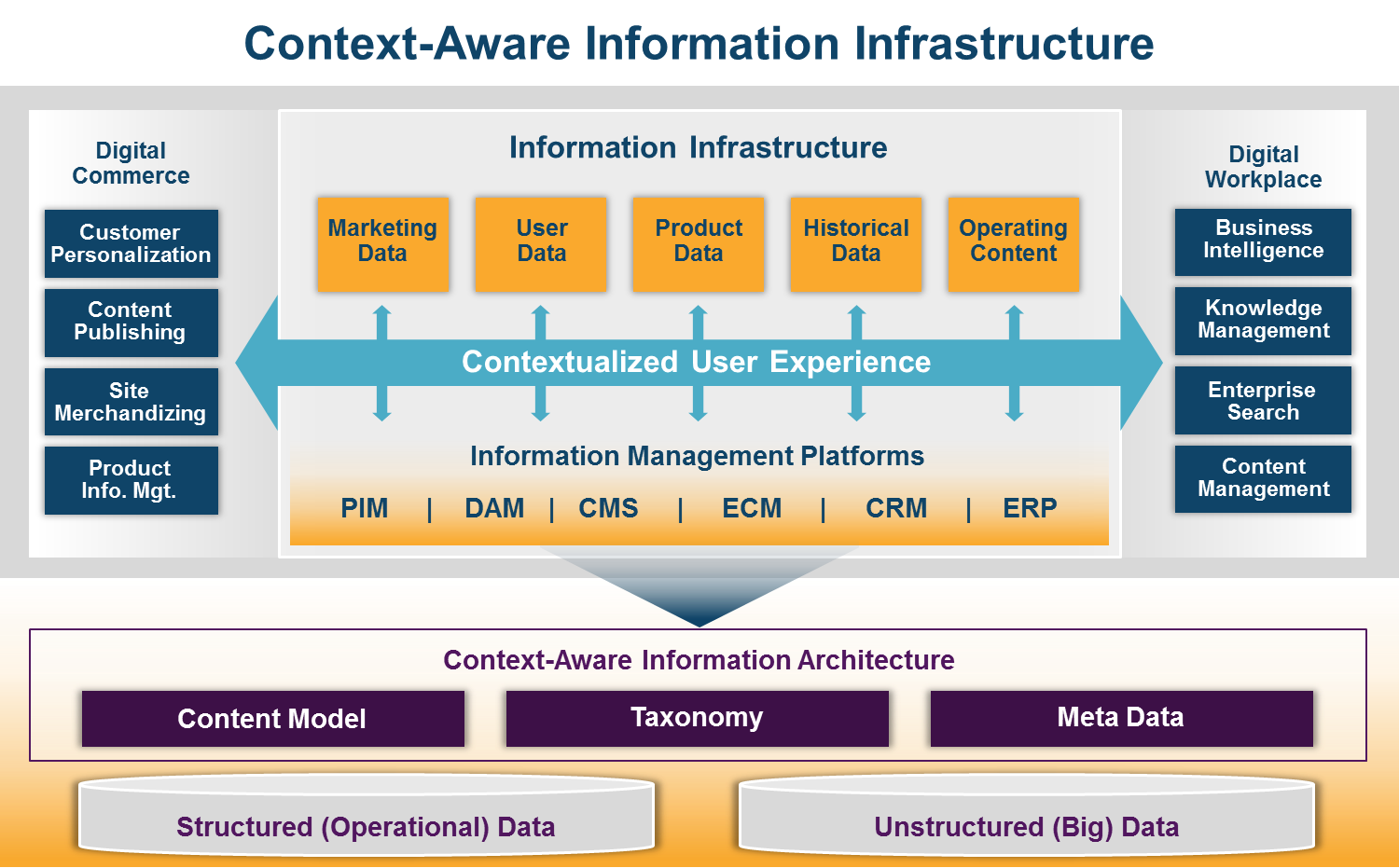 Transformation depends on a context-aware information infrastructure
One of the challenges in a project with multiple work streams is ensuring that the information and architecture, concepts, and terminology are consistent and appropriate for all applications, both short term and over the long term. This process entails development of an information domain model that can accommodate each of the project outputs and inputs.
A centralized approach for understanding and accommodating each of the project terminology requirements and designing an extensible model that can adapt to changes will ensure that short-term solutions do not end up getting thrown out or redesigned due to new requirements. This approach allows businesses to transform over time, beginning with quick win initiatives but providing continuity in their services in the long term, to take advantage of emerging opportunities.
The figure above shows that numerous information platforms, including product information management (PIM) systems, enterprise content management (ECM) systems, and customer relationship management (CRM) systems, feed into many other systems to provide marketing data, customer data, and operational data. These all support broad corporate digital transformation initiatives such as ecommerce and the digital workplace. The context-aware information architecture relies on a content model, taxonomy, and metadata that is consistent throughout the enterprise.
The reference architecture used for building this infrastructure must address all required information platforms and their data sources. And it must contain the information modeling, mapping, classification and metadata standards used to connect them in a contextual fashion.
Without this foundational architecture, digital transformation and its associated innovation will not be feasible.
The customer journey will not be the smooth path that was envisioned in the transformation strategy, customer satisfaction will decline, and your organization will not achieve the competitive advantage that it could have with a carefully thought out contextual information architecture.
For a deeper dive into how we use information architecture as the foundation for digital transformation read our whitepaper: "Knowledge is Power: Context-Driven Digital Transformation.